February 21st, 2018, 5:29 pm
* Abilene *

Joined: February 21st, 2018, 4:56 pm
Posts: 5
I make very good pizza with homemade dough on a 3/8", 22lb Baking Steel in my electric oven considering the temp max of 550F. I've tried on a Weber propane grill with the steel, but there is not enough heat from the top to cook the top properly.

On a YS640, I'm thinking of taking the diffuser out. Put the steel on the right hand side away from the fire pot. Then putting a piece of metal in the slot for the 2nd grate above the steel for radiant heat. The goal is to cook as fast as possible so the crust does not dry out.

Any comments, suggestions?




BTW, handy tip for pizza folks. Get yourself a SuperPeel! Cuts down on the cussing!


April 17th, 2018, 9:57 am
* Cheyenne *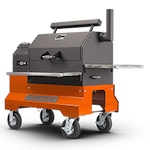 Joined: March 11th, 2018, 7:11 pm
Posts: 79
Location: Morrill, Nebraska
Are you planning on a piece of steel that spans the entire length of the pit? I'd suggest just setting a piece of steel the same size as your baking steel on top of the second rack.
Yoder 640 on a Husker themed comp cart. Go Big Red!
* Cheyenne *

Joined: September 8th, 2014, 2:25 pm
Posts: 52
So I did something like this on the weekend

Setup:
I have a 3/8" baking steel the exact size of half the lower shelf/grate. To start I had the heat deflector in and the pit heated to 475. The steel just to the right of the door in the heat deflector. and the grill grates laying on the top shelf pushed all the way to the right to try and deflect the heat down.
With this setup the steel was around 525f when I started.

To cook I removed the door in the deflector and placed it right above on the top shelf to try and keep the heat lower and let the fire cook the top of the pizza.
We only did 2 pizzas this way as thats all we were making but it worked great the pizzas cooked in 6 mins. I would rotate about halfway through as the left side was hotter.

I dont have much experience making pizzas but plan on doing more as it tasted fantastic
July 22nd, 2019, 11:29 pm
* Abilene *

Joined: July 13th, 2019, 9:01 am
Posts: 2
Have you used this since? Have a photo?
Return to Cooking Questions, Tips and Tricks
---