November 8th, 2019, 1:23 pm
* Abilene *

Joined: July 10th, 2016, 8:36 pm
Posts: 2
Hey guys and gals, quick question: Can anyone give me feedback on smoking pork butts using a wet rub? I've used one on a shoulder I did in the oven, and really liked the flavor profile, but I'm worried about the smoke penetrating the meat if I do it on my smoker. I have a Yoder YS640, I plan on using Lumberjack mesquite blend pellets, but also have some 100% mesquite as well.

The wet rub has olive oil, red wine vinegar, and chipotles in Adobo sauce, along with a bunch of dry spices, and gets blended into a relatively thick paste. I gues another option would be to thin it down and inject the mixture then hit the outside with a dry rub.
November 8th, 2019, 2:06 pm
* Wichita *

Joined: July 25th, 2015, 1:21 pm
Posts: 145
Honestly if you like something keep doing it and only one way to find out! Personally I stick to a dry rub because I like the finished product. I also stay away from Mesquite for any long cooks as my experience is I get a little more of an acrid taste. I may use for burgers and steaks. I do use Lumberjacks but like maple and maple mix or even cherry and pecan mix (I even think the pecan straight is a little too acrid). I do have an injector but over time seem to use it less and less.

In the end we all have different tastes and flavor profiles are subjective. Smoke penetration on a 640 will vary from cook to cook. Either way it usually comes out pretty dang good.


Enjoy and let us know the results!
November 8th, 2019, 6:10 pm
Site Admin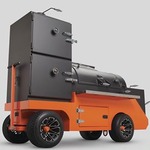 Joined: April 18th, 2014, 3:12 pm
Posts: 2409
Return to Cooking Questions, Tips and Tricks
---