March 2nd, 2018, 12:52 am
Cooked a small whole chicken on my 480 at 225 degrees. Removed after cook temp reached 160 degrees. (Took 5 hrs). Chicken was perfect, but the skin was quite tough. Any suggestions? I did use a typical rub on the skin. Surpised about its toughness and long cooking time. Would welcome suggestions.
* Kingman *

Joined: September 3rd, 2014, 11:04 pm
Posts: 407
I cook chicken at a minimum 275. To get crispy skin you need to be near 350 for the last 20 minutes. 225 is to low to crisp skin.
March 2nd, 2018, 10:45 am
Site Admin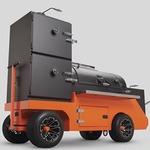 Joined: April 18th, 2014, 3:12 pm
Posts: 2408
Poultry does not require a low and slow cook, like pork butt and brisket, as it does not have the same sinew and connective tissue that requires breaking down over a long cook time.

Cooking at 225 will indeed cook the chicken, but as you have found out, will not provide the crisp skin that most people desire. I cook poultry at 325 to 375 degrees, and always spatchcock to allow the bird(s) to cook more evenly and in less time.

Another method of attempting to get crisp skin cooking at lower temperatures, is to air dry the bird in the fridge for 24 hours before cooking, which will dry out the skin. Give that a try, but you may find that the best method is to cook at higher temperatures when cooking poultry.
Thanks for the help. Yes, seemed like the low temp was the culprit. Skin did crisp at 225 degrees but crisp AND tough.
Return to Cooking Questions, Tips and Tricks
---