September 25th, 2017, 11:24 am
Digital readout on the pellet grill says 400 but it only gets to 200 in the cooking chamber. Digital read out has a stair step down pattern indicating it thinks grill is up to temp. Pellets are feeding, not wet, and thermocoupler was cleaned, but didn't help. Any thoughts on what to try next? Grill is two years old.
September 25th, 2017, 12:15 pm
Site Admin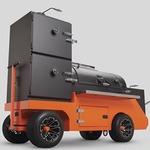 Joined: April 18th, 2014, 3:12 pm
Posts: 2331
Sounds like the thermocouple needs to be replaced.

Send an email to customerservice@yodersmokers.com with your name, address, phone number, serial number and build date of the cooker, with an explanation of what you are experiencing. The original thermocouple is covered for 3 years under warranty.
September 25th, 2017, 12:44 pm
Will do. Thanks for the quick response.
Return to Manuals, Troubleshooting, Best Practices, FAQs, Cooker Registration
---