March 24th, 2015, 1:59 pm
Site Admin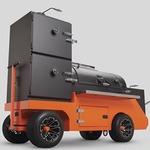 Joined: April 18th, 2014, 3:12 pm
Posts: 2111
March 24th, 2015, 4:49 pm
* Wichita *

Joined: August 15th, 2014, 4:08 pm
Posts: 162
Location: Lincoln, NE
I've had the pleasure of having dinner with Herb and his wonderful wife and a number of conversations with him on the phone and over email, some of those before he worked for Yoder. Herb is a class act. Truly a great person and someone I'm glad to know. Yoder has a good guy on board in Herb, in addition to all of the great people Yoder has on their team.
Yoder

Smokers

YS1500, Yoder

Smokers

24" Firepot,
Yoder

Smokers

YS640

CompCart

(sold)
March 24th, 2015, 9:31 pm
* Abilene *

Joined: August 24th, 2014, 7:46 am
Posts: 7
I too have met Herb and his wife at an ATBBQ master class. Good folks and a class act.
March 24th, 2015, 10:52 pm
* Abilene *


Joined: February 9th, 2015, 9:00 am
Posts: 13
Great story by one of the good guys.

Thanks for posting.

Bob
April 13th, 2016, 12:02 am
* Abilene *

Joined: April 12th, 2016, 12:56 am
Posts: 1
Aw, this was an extremely good information. Wonderful information and I wanted to post a note to let you know, ""Good job""! I'm glad I found this forum site. Brilliant and wonderful job ! Your forum site has presented me most of the strategies which I like. Thanks for sharing this.

ClayAnderson
Link removed by Moderator per forum rules
August 11th, 2017, 5:44 pm
* Abilene *

Joined: August 11th, 2017, 9:01 am
Posts: 16
Return to News and Announcements
---