November 2nd, 2015, 7:25 am
* Abilene *

Joined: January 19th, 2015, 2:58 pm
Posts: 2
Location: SW Ohio
On the second smoke after a 'deep' cleaning my YS640 performed as follows:

Used hickory pellets, hopper about 1/2 full.
Plugged in unit, turned it on, screen shows U26 (unit manufactured 10/2014).
Set temp for 280. Pellets lit without issue.
After 15 minutes put food on second rack with water pans underneath.
Exhaust felt 'cool'. Screen showed downward marks and temp @ 280.
After 30 minutes no change in temp or screen.
Turned off unit. Blower working fine. Unplugged unit for 2 minutes.
Plugged unit in, turned it on, set temp for 280, pellets lit without issue.
No change, unit exhibited same behavior.
Inserted second temp monitor and found second rack temp at 106.
Unit did not heat up.
After 45 minutes, shut it down.

Request any assistance with this issue. Intend to call support later today.

Thanks.
Yoder YS-640 Competition Model
November 2nd, 2015, 10:23 am
Site Admin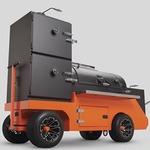 Joined: April 18th, 2014, 3:12 pm
Posts: 2408
If the display is showing the cool down mode immediately after pushing the START button, the thermocouple is bad or has been damaged.
Return to Manuals, Troubleshooting, Best Practices, FAQs, Cooker Registration
---