* Abilene *

Joined: November 25th, 2016, 5:43 pm
Posts: 9
I cooked my first packer brisket yesterday on my 640. 14 lb. packer, trimmed, didn't separate point and flat. Cooked at 250 on bottom rack with fat cap on top, wrapped in butcher paper about 1/2 way through cook with a total cook time of about 14 hours. Brisket was fall apart tender, but bottom was so tough couldn't cut with a knife.

While I want the meat to be tender, maybe not fall apart tender and most definitely would like the bottom bark not be so tough. Did I cook too long?
Site Admin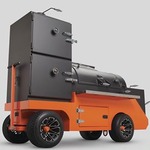 Joined: April 18th, 2014, 3:12 pm
Posts: 2408
I would suggest that you put the fat cap down, to put it between the heat source and the meat.

Never cook brisket to a specific temperature. Start probing the meat for the "feel" of pushing a probe through soft butter.
Return to Cooking Questions, Tips and Tricks
---