Hi All,

Yoder YS640 owner - I've been cooking heavily on it for about a year now, but I have a new challenge:

I have a mess of chicken to cook... roughly 50 each (100pcs total) chicken breasts and thighs, bone in, skin on.

1 - Will it fit? Thinking breasts on the lower grate, thighs on the top. I'd like to do it all in one run if I can.

2 - What's my best process here? Usually with chicken I'll smoke low for a couple hours and then bring the heat up to finish... but I'm unsure how that's going to work with that much meat inside. I don't want to burn the bottoms while the pit works to bring the temps up.

Plan to brine all of the meat overnight beforehand, not looking for fried-crispy skin but also not mush.

Any advice from someone that's been there is greatly appreciated! Thanks!

Dave
Figured I'd share some results:

I ended up doing it in 2 runs, each in the 35lb range. The YS640 will has about the same cooking area as 3 commercial food pans, so laying your food out in them is a good way to guess what fits. That was the part I really needed to sort out. Brined the chicken overnight in the pans.

Breasts - smaller ones on the top rack, larger on the bottom. 1:30 at 240, then finished for :30 at 350. Had to rearrange a little at the 1 hour mark, and ended up taking them off in 2 batches, at 160 internal.. some went about :10 longer than others. Could have probably pulled 5 degrees earlier. Everything went in a Cambro insulated carrier.

Thighs - same as above, but smoke for about an hour.

The YS640 didn's run any differently than my normal cooking. Top rack, of course, ran cooler, so it was a great spot for smaller pieces or pieces from the bottom that were in hotter areas.

The crowd couldn't have loved it more. Everything stayed held up great in the hotbox (worth the investment!), and I was pretty pleased with a first attempt.
Site Admin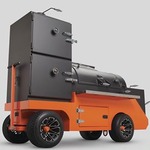 Joined: April 18th, 2014, 3:12 pm
Posts: 2408
Sounds like you did a great job, and have some new knowledge to write in your cookbook log.
Return to Cooking Questions, Tips and Tricks
---