* Abilene *

Joined: March 1st, 2019, 5:13 pm
Posts: 4
Anyone have knowledge to share doing a pizza on the 640. Please share!!
March 9th, 2019, 12:23 pm
Site Admin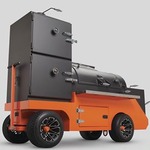 Joined: April 18th, 2014, 3:12 pm
Posts: 2409
August 18th, 2019, 7:08 pm
* Abilene *

Joined: December 26th, 2015, 4:07 pm
Posts: 1
Just made homemade pizza on the 640. The dough was homemade but not sure that matters. Everyone loved it. Here's what I did and the one change I am considering. I had the diffuser in place and had the baffle all the way open. I put the three direct grill plates on the smokestack side and grilling grates on the rest of the cook zone. I put a baking steel over the grates. I set the temp to 500. I cooked on both surfaces and they both worked well. The only mild disappointment is the top of the crust didn't brown but it was crispy. I might get another baking steel and put it on the second rack to see if that will reflect the heat and brown the crust. Even if it doesn't the pizza was great
September 16th, 2019, 8:24 am
I'm new to making pizza. My favorite pizzas are the thin crust Neapolitan-ish style pizzas like at Varasano's. Since there isn't any good pizza places anywhere where I live I decided to start making my own.

I've started to get the hang of Jim Varasano's pizza recipe, save the 800 degree temps, so I end up using my conventional oven at 550 with additional help from the broiler, to get what I can out of the recipe, which last time (my best attempt yet) ended up pretty good, if not Neapolitan.

I'm wondering what may be possible with a gas grill though. Some of the best pizza I've had was at a pizza place that's now closed that used to be in nearby Bluffton, SC, and they used coal fired ovens. I myself use wood chips and chunks on meat with good effect on my gas grill so I'm wondering if I might be able to get a brick/wood ovenish taste with my gas grill (understanding that there's likely no substitute for the real thing, but the real thing is too expensive right now). I've thought about using a pizza stone and some fire bricks above the pizza, with maybe some charcoal beside the pizza to help heat the top. I don't have an infrared rotisserie burner like the guy in that thread so that's what prompted thinking about putting a charcoal basket next to the pizza.


Any ideas from those who have cooked pizzas on gas grills? Just looking to get the most out of what "ovens" I have at my disposal. My grill is a three burner Weber Spirit.
January 7th, 2023, 2:00 am
* Abilene *

Joined: January 28th, 2016, 6:55 pm
Posts: 1
My Pizza crust is not getting crunchy.. tops done sides done bottom seems to be limp. Have temperature set for 600 but when I check it with my IR gun it's only reading 450. Can't seem to get it any higher when cooking pizza. I'm using Kirkland hardwood pellets.
Return to Cooking Questions, Tips and Tricks
---