December 21st, 2018, 8:43 pm
I've replaced 3 thermocouple and one igniter since 2014. My son has a rec tec and not the same result plus i note they use a ceramic igniter. Is there a significant fail with these parts on yoder. I know of nothing to do different. Igniter $39.0. Thermocouple $32.00. Plus shipping and installs. And apparently proprietary parts so no buy locally.
December 22nd, 2018, 1:52 am
Site Admin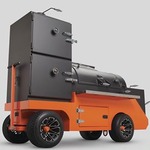 Joined: April 18th, 2014, 3:12 pm
Posts: 2409
As a comparison, I just replaced the first igniter in my early 2012 YS640, and in my 2013 YS1500.

I have yet to replace a thermocouple in either cooker.

I always clean the ash from the burn grate before each use of the cooker, and always wipe/clean the thermocouple before each use. I also make sure that the thermocouple wire is never pinched or pulled when cleaning the grates, or taking the diffuser and grates out and putting them back into the cooker.
December 22nd, 2018, 11:09 am
That's interesting. I would be interested in number of thermocouples atb sells. I clean every cook .I am careful with diffuser and grates but the thermocouple is precarious in its position. On back wall and wire goes downunder diffuser into hole in hopper side wall. The only thing i don't do is wipe thermo after each cook.As a user I suggest work is needed on design and an effort to use and identify these parts so they can be bought on the the local market..thank you for your response much apprecited.
December 24th, 2018, 2:09 pm
* Wichita *

Joined: July 25th, 2015, 1:21 pm
Posts: 145
I also have replaced 3 thermocouplers since 2014 . I keep my pit very very clean. I however have no complaint. The first two were under warranty which they took care of as fast as humanly possible. One I will claim as my responsibility as in was a particular greasy cook at high temp. The crew at Yoder wheather on line or via phone is pretty much always there (ever tried working with warranty work through cell phones, tv's or computers)? So in four and a half years I have under $50 in upkeep...

The ability to buy components locally would be nice but honestly seeing as though am in the suburbs its a trek. Best policy is to keep as spare thermocouple around the house. The igniters seem to be less of a problem at least for me.

Either way Merry Xmas and thanks to the Yoder crew for a great product.
December 30th, 2018, 1:36 pm
* Cheyenne *

Joined: September 8th, 2014, 2:25 pm
Posts: 52
2 thermocouples and zero ignitors since 2014
Return to Yoder Community Town Hall
---