* Abilene *

Joined: August 25th, 2014, 10:00 am
Posts: 4
Location: Prague, Czech Republic
Help! I've got a big catering coming up tomorrow and the auger on my YS1500 has stopped feeding pellets. I emptied the pellet hopper and cleaned out all around the auger, and also cleaned around the auger inside the chamber in case there was char buildup. It turns fine for awhile and then just stops. If I jiggle it around it will turn about 1/2 turn and stop again. There is no scraping noise or anything, it just stops.

Thanks!
Site Admin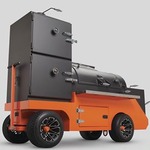 Joined: April 18th, 2014, 3:12 pm
Posts: 2409
Answered your Facebook message.
* Abilene *

Joined: August 25th, 2014, 10:00 am
Posts: 4
Location: Prague, Czech Republic
Thanks to Herb's late night message, this problem was solved! Over the winter the screw on the auger had come a bit loose, allowing it to start slipping occasionally and stop feeding pellets. Simply tightening up this screw solved the issue and we cooked all day with no problems! Thanks again to the great support of Yoder Smokers!!
-Clint
European importers of Yoder Smokers
www.bbqeurope.com
November 25th, 2021, 6:17 am
* Abilene *

Joined: September 30th, 2019, 5:01 am
Posts: 3
Thanks for not posting here. My auger has stopped and nothing on the site. Could you please post answers or help me??
Return to Manuals, Troubleshooting, Best Practices, FAQs, Cooker Registration
---