April 26th, 2015, 9:10 pm
* Abilene *

Joined: January 18th, 2015, 12:43 pm
Posts: 2
This weekend was our first competition and just our second full run with the YS1500. So we have some more learning to do. However, we received our first call! It was a great start to the BBQ season for One Eyed Squealie's.
April 26th, 2015, 11:09 pm
Site Admin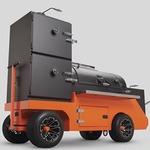 Joined: April 18th, 2014, 3:12 pm
Posts: 2409
Congrats and wishing you many more.
April 29th, 2015, 6:36 pm
* Kingman *


Joined: August 16th, 2014, 7:43 pm
Posts: 299
Location: NORTH
outstanding!!!
~All that is gold does not glitter ~ Not all those that wander are lost~
~20" Yoder "Swiss Army Knife" Stick Burner~
Return to On the BBQ Comp Trail
---