October 2nd, 2015, 11:09 am
* Abilene *

Joined: September 24th, 2015, 10:52 am
Posts: 2
Location: Mesa, AZ
Got my new 486 on Wednesday and couldn't wait to try it out.

Thursday set it up for it's first go round with a couple slabs of St.Louis style ribs. Using the 3-2-1 method with temp at 230 they turned out juicy, tender and done to perfection. However I did find out that the rub I sed was way too salty for my taste. Looking around the forums there seem to be a lot of rubs that use everything but the kitchen sink without the salt, many advising to put your own salt on about and hour before the cook. Going to try a few recipes from these forums to see what works good with the ribs.

Overall, the Yoder worked fantastic and am smoking some freshly caught Lake Michigan King Salmon.......
MakDaddy in Mesa AZ
October 2nd, 2015, 3:02 pm
* Kingman *


Joined: August 25th, 2014, 10:28 am
Posts: 268
Congrats on the new Yoder msgmak! It's honestly hard to make a bad rib on a Yoder pellet smoker...I'm sure it's possible, but you'd really have to try!

You'll find there's as many favorite rubs as there are folks willing to let you know what they use. I've used Dizzy Dust a bit and liked it and I typically just make my own. I know there are a bunch of others folks have talked about on this forum that I've never tried. Mad Hunky comes to mind. Do a search for rubs on the forum and I'm sure you'll find a few to try. Good luck and good eats!
October 5th, 2015, 8:37 pm
Site Admin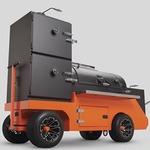 Joined: April 18th, 2014, 3:12 pm
Posts: 2408
I would skip the Hunky stuff and go right for anything made by Oakridge.
Return to Owner Success Stories
---