September 14th, 2015, 8:36 pm
* Abilene *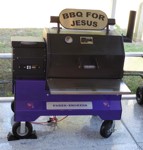 Joined: August 15th, 2014, 7:23 pm
Posts: 35
I started to plan for a major purchase for our backyard cooking.

We determined tha a pellet cooker would best suit our needs.

Then we begin to look at pellet cookers, everyone said YODER was the best. (Well, almost everybody)

We were blessed to find a used YS640, with all the options. We obtained this cooker just about the time our Church found out that I could cook. And cook we did, pulled pork, steaks, hamburgers, chicken. Whatever I asked the Yoder to do, it preformed great and made me look good!

Only problem, with multiple Church's socials, The YS640 capacity was pushed to the max. How to correct this problem?
We ordered an YS1500, which I hope to fire up early October. The shipping company undid Yoder's effort to protect the first unit, so they bought that one.

Very soon, I will have matching YS640 and YS1500, both with a purple cart. And both loaded on my trailer for a Church cook.
I am very blessed and very happy to deal with YODER!
September 14th, 2015, 11:48 pm
* Wichita *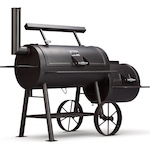 Joined: August 16th, 2014, 10:02 pm
Posts: 246
Location: Iowa
Congrats!!! That's a wonderful story!!
September 18th, 2015, 1:22 pm
* Kingman *


Joined: August 25th, 2014, 10:28 am
Posts: 268
Awesome indeed! We should all be so fortunate! Enjoy those cookers!
Return to Owner Success Stories
---