October 16th, 2016, 12:28 pm
* Abilene *

Joined: December 10th, 2015, 11:24 am
Posts: 10
WOW - Had 8 people over last night, and really had one of the best Center Cut Tenderloins Ever - And I'm close to 70 - and not my first Tenderloin.

The Yoder 36' Flat top came thru like a champ. The meat was gone so fast, we did not get a picture of it, but next time to be sure.

It was a Steve Raichlen's Bourbon Brown Sugar Smoked Loin. If no one has ever tried it, do give it a try. Lit the Flat top and it kept going for a steady 2 - 3 hours measured on my Maverick. Followed it up with Drunken Pineapple's, and it is going to be listed as the cook out of the year.

But....the year is not over.....we will keep on smokin.
October 16th, 2016, 12:36 pm
Site Admin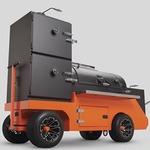 Joined: April 18th, 2014, 3:12 pm
Posts: 2408
Return to Owner Success Stories
---