March 29th, 2016, 2:58 pm
I am planning a large party for about 100 - 150 ppl, I will be serving Brisket, Pulled Pork, Ribs and Chicken Lollipops. The goal is always to have no leftovers, I can only eat so much but hate throwing away food even more.

How many pounds of Brisket and Pulled Pork would you suggest? How many Ribs and Chicken Lollipops per person?

Sides of Cornbread, Coleslaw, Macaroni Salad and Baked Beans will be available, as well as 4oz Burgers (guests can request a double) and Hotdogs.

Thanks in advance for your help.
March 29th, 2016, 10:31 pm
Site Admin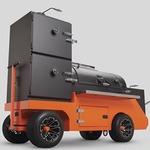 Joined: April 18th, 2014, 3:12 pm
Posts: 2151
If you are serving, then figure what you want to give each person (ounces) and then do the math. If you are doing it buffet style where they serve themselves, you can't cook enough to make sure that everyone gets some, and will have a lot left on plates that go in the trash. It is always best to serve and have them come back for seconds, or once everyone is served, put it all out for self serve.
March 30th, 2016, 7:59 am
I will have someone carving the brisket as needed so it doesn't sit out too long out of the hot box and dry out, same with the ribs. The Chicken and the pulled pork will be buffet style, as well as sides burgers and dogs.

The math I worked on was:

1/4 pd brisket pp (cooked)
1/4 pd pulled ppp (cooked)
1/3 Rack of ribs pp
1.5 Drumsticks pp

Along with:

1 Tray of corn bread for every 25 ppl
1 Tray a baked beans for every 50 ppl
1 Tray of macaroni salad for every 50 ppl
1 Tray of coleslaw for every 50 ppl

1.5 4 oz Burgers pp
1 hotdog pp
April 26th, 2016, 2:24 am
* Abilene *

Joined: April 26th, 2016, 12:25 am
Posts: 3
I think instead of guessing the quantity yourself you can take help from some best caterer services in your area, which can save your time.
Return to Cooking Questions, Tips and Tricks
---