December 21st, 2020, 1:37 pm
* Abilene *

Joined: December 5th, 2020, 10:39 am
Posts: 3
I receive my new YS640S tomorrow (Dec 22). I heard that for the First Cook, you should cook a very fatty food to help with the seasoning of the grill.

...True/False? If True, what meats do folks recommend.

Look forward to your replies!

Happy Holidays!
December 23rd, 2020, 9:26 am
* Abilene *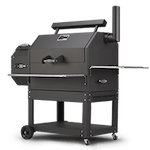 Joined: December 13th, 2020, 2:03 pm
Posts: 4
Location: Southern Illinois
I did bacon since I was out of bacon and thought it wouldn't hurt for the seasoning process. I just started cooking anything I wanted to and didn't over think it. Cook what you want and enjoy the experience cause you won't be disappointed.
March 24th, 2021, 2:12 pm
* Abilene *

Joined: July 10th, 2018, 4:52 am
Posts: 3
I did ribs first, I was using the 3-2-1 method and they came out way overdone. Then I watched Franklin and my next ribs came out perfect. Then pork butt, then brisket. If I was doing it over again, I would probably start with a beer can chicken. Short time and a really delicious outcome.
Return to Cooking Questions, Tips and Tricks
---