December 21st, 2017, 6:02 pm
Hello all, had my Yoder YS640 for about 2 months now and I LOVE it! It just seems to take so long to smoke items. 6 to 7 hours for ribs, almost 20 hours for a 9 pound brisket flat. Do these times seem excessive????? Thanks........
Yoder YS640 Competition Cart - Orange
Stainless Steel Shelves
YS640 Thermal Jacket
Grill Grates
December 21st, 2017, 11:17 pm
* Kingman *

Joined: September 3rd, 2014, 11:04 pm
Posts: 407
Yes, my BB ribs at 245 take about 4-5 hours, no wrapping.

20 hours?

What shelf are you placing the meat on? The upper shelf is 20f or so lower in temp.
December 22nd, 2017, 3:47 am
I was originally using the upper shelf but the last spare ribs I did on the bottom shelf. I'm only smoking them at 225° also.
Yoder YS640 Competition Cart - Orange
Stainless Steel Shelves
YS640 Thermal Jacket
Grill Grates
December 22nd, 2017, 11:52 am
Site Admin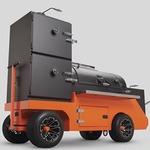 Joined: April 18th, 2014, 3:12 pm
Posts: 2408
You will need to raise the temperature to get faster cook times.
December 23rd, 2017, 4:48 pm
* Wichita *

Joined: July 25th, 2015, 1:21 pm
Posts: 133
Agree with both of the above responses. I usually cook at 250 for 4 hours no peek. At 4 hours I do an internal check and spritz. Usually with rum/apple juice/maple mixture a couple of times at 20 minute intervals. Sometimes I wrap in foil with butter/honey/ a bbq sauce for another half hour depending on the bend/break test...altogether about 5 hours. Usually do three ribs sometimes I wrap one or two and leave the third dry. Almost always use BB over St. Louis as the latter do take longer

I have done at 225 usually adds another hours or so and really cannot say it adds anything to the tenderness or juiciness. Have stayed with the above paragraph for the last couple of years and seems to fit most of the palates.
* Abilene *

Joined: January 30th, 2017, 10:02 pm
Posts: 6
Location: Liberal, Kansas
I have a Yoder 1500 and I recent smoked five 12# Angus, Choice packer briskets. Used Wisconsin Apple and Pecan 50/50 mixed with 3 briskets on the bottom, close to the firebox as I could get them and 2 on the top rack, to the left side. Temperature was set at 220*. Commenced the cook about 10:20 PM Tuesday and took the last brisket off at about 11:15 PM Wednesday. With this taking so long, I did up the temperature up to 250* and again Later to 270* during the cook. Did spritz with Apple Juice and Worcestershire Sauce.

I'm waiting a return call from Yoder CS; curious if anyone, as philleefan described above, has experienced this same issue and if so how did you correct this problem by increasing the temperature to like 275* for this many briskets????.

I've completely cleaned the smoker, grates, chimney, replace the sealer around the firebox with the recommended Permatex, centered the igniter in the housing and cleaned off the thermocouple. The igniter is extending about 3/8 - 1/4 inch pasted the housing. Open to suggestions.
Plan on running a 2 hours temperature check, soon as I'm off call. thanks in advance for suggestions.
Return to Cooking Questions, Tips and Tricks
---