November 15th, 2016, 12:51 pm
* Abilene *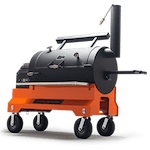 Joined: December 17th, 2014, 7:14 pm
Posts: 21
I have decided to forego the normal Turkey Dinner on Thanksgiving and cook a whole beef tenderloin along with some chicken breasts to stretch the meat out a little. There are tons of cooks on google with tenderloins, but I didn't find any on Yoders. I am also using this for a review of my new Tappecue the sent me, so I will have it well documented. I plan on a simple cook, EVO with Kosher Salt and Pepper only for seasoning. Meat trimmed, tail tucked, and tied for even heat. I will probably smoke it to 140 then let it rest for an hour. Any thoughts or advise? -Craig
Craig Brandon
Cookin' With Grace Ministries
YS1500, Traeger BBQ124
November 15th, 2016, 1:19 pm
* Wichita *

Joined: July 25th, 2015, 1:21 pm
Posts: 125
When ever I am looking for something different or another recipe I use my search engine and make it as simple as possible. In this case I typed Yoder Tenderloin and came up with quite a few...both pork and beef. Most are on other forums so it would not be polite to link but I have done this more than once and almost always find something that works...wheather or not I like the recipe enough to cook a second time is another story.
November 15th, 2016, 1:28 pm
Site Admin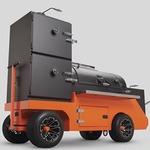 Joined: April 18th, 2014, 3:12 pm
Posts: 2249
The method you posted is exactly what I would do, with the exception of using my own beef seasoning.

Want to get fancy, make slits and poke in garlic, butterfly and stuff with your favorite items, fillet it flat and roll it up with your favorite items inside, use a knife to make a slit in the center and insert your favorite precooked sausage .....
November 15th, 2016, 10:58 pm
* Kingman *

Joined: September 3rd, 2014, 11:04 pm
Posts: 401
Depending on the eaters preferences 140f off the fire could be a bit high. Higher than I would cook a tenderloin, they are meant to be no more than at the most medium rare my friend.

When it rests the internal can climb 5f easy. So, read up on the Internets for oven cooking and go with it.

Ohh cut the tail and do something else with it.
Return to Cooking Questions, Tips and Tricks
---