So I just did a huge rack (4.3lbs) of BB ribs on my cooker. My girlfriend loves super tender ribs so I opted for the 3 2 1 method on this cook. I recently cooked my first brisket with butcher paper the other day and I wanted to try it with ribs. I was dissapointed with the tenderness of the ribs, it wasn't near what I got with foil. I wasn't expecting exactly the same thing as foil but was hopeful that it would be super tender with better bark. Not what happened. The ribs where almost tuff. I had about 195 IT.

So, has anyone had a bad experience with paper on ribs? Or am I the first sucker?? Lol

I'm thinking that since BB ribs are lean compared to a brisket that I didn't get the same results? Did I just get a bad rack??

Thoughts??
Wichita, KS!
New to pellet grilling/smoking
YS-640 ON ORANGE COMP CART
* Abilene *

Joined: January 5th, 2016, 11:03 pm
Posts: 9
I am getting the same thing with paper I went back to foil yesterday and they were perfect. I dont think the paper holds enough moisture to make the ribs fall off tender. I am not giving up may try 225 for smoke and 275 during the wrap and finish
Let me know how that works! I'm going to do a half rack in paper and half in foil next time with the same recipe and see how it works out.
Wichita, KS!
New to pellet grilling/smoking
YS-640 ON ORANGE COMP CART
April 4th, 2016, 11:10 am
Site Admin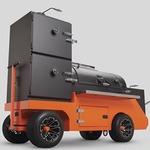 Joined: April 18th, 2014, 3:12 pm
Posts: 2151
You need to cook them longer in paper. If you want fall off the bone, 200 to 205 degrees internal temperature.

Butcher paper is not a replacement for foil. BP is used in stick burners to protect the meat from over smoking, i.e., tasting bitter like creosote. In the Yoder pellet cookers, if they are cleaned, maintained and functioning correctly, over smoking is impossible to do.
Return to Cooking Questions, Tips and Tricks
---