October 13th, 2018, 5:43 pm
* Abilene *

Joined: July 10th, 2017, 3:58 pm
Posts: 10
I am going to smoke a small turkey on my YS 640 tomorrow. I have read the recipes on The Sauce site, have spatchcocked it and am brining it now. I intend to smoke it at 250 for an hour and then at 425 until internal temp is 165.

Question 1: The turkey is 11.75 lbs. How long will it take to cook using this method?

Question 2: Should I tent the turkey with foil at any point in the process?

Question 3: What flavor pellets should I use for a turkey? I have several different bags to choose from.

Thanks.
November 15th, 2018, 10:49 pm
* Cheyenne *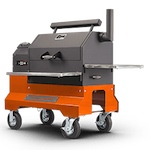 Joined: March 11th, 2018, 7:11 pm
Posts: 76
Location: Morrill, Nebraska
November 19th, 2018, 5:45 pm
Lots of info on spatchcocked, not much info that I could find on a whole bird. whats the recommended temp and time for a 15 lb'r?
November 20th, 2018, 9:36 am
About 3 hours, plan for 3.5.
November 20th, 2018, 2:31 pm
whats the recommended temp?
November 21st, 2018, 12:35 pm
How about 325 to 375? Honestly the Yoder is nothing but a wood fired oven. So go with the same temps you would use in an oven.

Or, cook at lower temps like 275 for up to 5 hours with 10-12 lb turkeys.
Return to Cooking Questions, Tips and Tricks
---