December 21st, 2017, 6:02 pm
Hello all, had my Yoder YS640 for about 2 months now and I LOVE it! It just seems to take so long to smoke items. 6 to 7 hours for ribs, almost 20 hours for a 9 pound brisket flat. Do these times seem excessive????? Thanks........
December 21st, 2017, 11:17 pm
* Kingman *

Joined: September 3rd, 2014, 11:04 pm
Posts: 374
Yes, my BB ribs at 245 take about 4-5 hours, no wrapping.

20 hours?

What shelf are you placing the meat on? The upper shelf is 20f or so lower in temp.
December 22nd, 2017, 3:47 am
I was originally using the upper shelf but the last spare ribs I did on the bottom shelf. I'm only smoking them at 225° also.
December 22nd, 2017, 11:52 am
Site Admin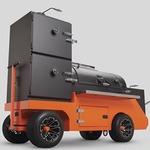 Joined: April 18th, 2014, 3:12 pm
Posts: 2037
You will need to raise the temperature to get faster cook times.
December 23rd, 2017, 4:48 pm
* Wichita *

Joined: July 25th, 2015, 1:21 pm
Posts: 111
Agree with both of the above responses. I usually cook at 250 for 4 hours no peek. At 4 hours I do an internal check and spritz. Usually with rum/apple juice/maple mixture a couple of times at 20 minute intervals. Sometimes I wrap in foil with butter/honey/ a bbq sauce for another half hour depending on the bend/break test...altogether about 5 hours. Usually do three ribs sometimes I wrap one or two and leave the third dry. Almost always use BB over St. Louis as the latter do take longer

I have done at 225 usually adds another hours or so and really cannot say it adds anything to the tenderness or juiciness. Have stayed with the above paragraph for the last couple of years and seems to fit most of the palates.
Return to Cooking Questions, Tips and Tricks
---