December 29th, 2019, 12:05 pm
[attachment=0]IMG_4503.JPG
Yesterday I smoked my first brisket on my new YS480s. I started it 250. After about 3 hours increased to 275. A probe on the grill at the back left corner, adjacent to the point of the brisket, was then 245-250, which is what I wanted. The other probe was in the meat; it came up steadily.

The meat temperature hit 200 at about 6 hours. It had been a pretty steady rise to that point. Then held pretty steady. At 8 hours it was at 204. I pulled and wrapped it, put in a cooler. I let it rest another 2 hours, at which point the temp was down to 168. I would have liked to let it sit a little longer but it was dinnertime!

It came out really good, except that bottom (lean side) was charred. Past bark/burnt end. Any ideas? Lower temp? Flip half way through?

With that exception I am very happy with my first attempt. One of the best briskets I've ever done. I like the set it and forget nature of a pellet smoker, and the consistent temperature. I also the graph feature on the phone app. No question when the stall started!
December 29th, 2019, 1:07 pm
Site Admin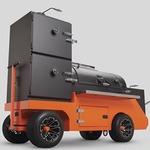 Joined: April 18th, 2014, 3:12 pm
Posts: 2408
Next time, put the fat cap down. Yoder cookers cook from the bottom up, so place the fat cap down to help prevent what you experienced. Cooking at higher temperatures, and the fat cap being up, is what I would guess happened.
December 29th, 2019, 6:33 pm
Return to Cooking Questions, Tips and Tricks
---