January 4th, 2015, 1:08 pm
* Abilene *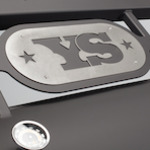 Joined: January 3rd, 2015, 5:54 pm
Posts: 17
Location: South Mountain, Ontario, Canada
Just wondering when your accessories are going to come out for us all to purchase? I like the t-shirt shown. I think you should design some manly aprons for the serious guys as well as some nice black gloves with YS on them. Just a thought. Or perhaps a nice ceramic coffee mug for those early morning start up's. I would imagine a beer jacket to keep a brew cold too would be good for those Summer days when you need to keep cool. Just a few thoughts.
Yoder Cheyenne
Is there really anything better than BBQ?
January 5th, 2015, 6:23 pm
Site Admin

Joined: May 12th, 2014, 3:35 pm
Posts: 53
Thanks for the input. We will be working on accessories in early 2015 and making these available to be purchased online. Stay tuned!
November 24th, 2015, 9:28 am
* Cheyenne *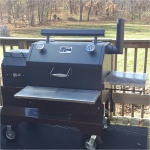 Joined: October 12th, 2015, 4:34 pm
Posts: 78
I was just thinking based on my last cook, I need a Yoder Smokers jacket to cook in. After, cooking I had a smoke ring...
October 28th, 2017, 10:19 am
Where do people get the big YS signs to go on the counter weights and stuff like that? I want to dress up my ys640 orange comp.
October 28th, 2017, 10:28 am
* Kingman *

Joined: September 3rd, 2014, 11:04 pm
Posts: 422
THey will sell them call Yoder direct.
October 28th, 2017, 10:38 am
Will do thanks. Looking for a chrome exhaust pipe also. Thanks
Return to Yoder Community Town Hall
---