October 7th, 2016, 12:41 pm
* Abilene *

Joined: September 10th, 2015, 7:03 pm
Posts: 1
Do you currently plan on having your controllers go WiFi in the future
October 8th, 2016, 10:01 am
Site Admin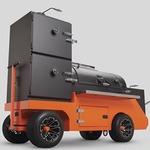 Joined: April 18th, 2014, 3:12 pm
Posts: 1852
October 25th, 2016, 5:59 pm
* Abilene *

Joined: October 25th, 2016, 3:32 pm
Posts: 1
I sure hope you come out with one soon. If you do I'll buy a YS640 or Ys1500 Competition.
October 25th, 2016, 9:34 pm
* Kingman *

Joined: September 3rd, 2014, 11:04 pm
Posts: 304
You need wifi for perfect smoke? Many products monitor temps, I use one, it's not wifi. Looks like you want a no instead of perfect smoke.
November 4th, 2016, 1:42 pm
* Abilene *

Joined: October 27th, 2016, 5:27 pm
Posts: 5
I had a GMG w/ wifi and it's very much over rated. I never used it to change temps and only used it to check in on temps. A Tappecue solved for this and works much, much better than the GMG wifi controller. I also get a detailed report at the end of my cook. Check out a Tappecue or equiv.
Return to Yoder Community Town Hall
---