December 23rd, 2015, 4:18 pm
I am in the process of taking my Yoder down to metal. Some rust developed under the cover, and it's down to meter in those places already.

I have the thermalux stove paint, as sold as ATBBQ. Thermalux also has a high temp primer, made to go under this black paint.

I have not seen traces of primer, so I hope YODER will answer this post.

Why should I NOT use primer? Or should / Can I?

OBTW, the paint that is not effected by rust, this stuff is tough!
December 23rd, 2015, 4:34 pm
Site Admin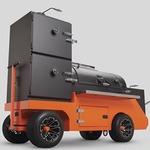 Joined: April 18th, 2014, 3:12 pm
Posts: 2196
We do not use a primer at the factory. The paint is a DTM (DIRECT TO METAL) product.
December 23rd, 2015, 4:39 pm
Return to Manuals, Troubleshooting, Best Practices, FAQs, Cooker Registration
---