December 10th, 2015, 8:19 am
I have a YS 480 that the display is going out. It's just on the first number of the display, part of the number is out. It was built March of 2014. Would this will be covered under warranty?
December 10th, 2015, 7:59 pm
* Kingman *

Joined: September 3rd, 2014, 11:04 pm
Posts: 401
Yes, the Yoder guys will have you cal the xxx-xxx-xxxx number, have your serial # ready. You did not use it in the rain at all right?
December 13th, 2015, 5:55 pm
Site Admin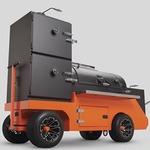 Joined: April 18th, 2014, 3:12 pm
Posts: 2196
Return to Manuals, Troubleshooting, Best Practices, FAQs, Cooker Registration
---