* Abilene *

Joined: April 25th, 2015, 5:59 pm
Posts: 7
Location: SoCal - Ready to Smoke!
I have a YS640, and when I first turn it on and go to adjust the temp, it starts at 350. Most of my cooks won't be over 250. I was wondering if there is a way to change the starting temp?
--- KDaWG
YS640 Black Competition Cart
Site Admin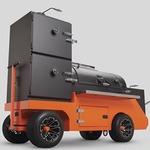 Joined: April 18th, 2014, 3:12 pm
Posts: 2138
The default temp is 350 and is not adjustable.
Return to Manuals, Troubleshooting, Best Practices, FAQs, Cooker Registration
---