* Kingman *

Joined: September 3rd, 2014, 11:04 pm
Posts: 401
YS 640 4 years old.

Time to wash cover. Been under patio cover in Las Vegas for all these years. Bit of dust, bird poop.

How to wash? Cold then rinse cold< dryer cold till done?

You have no advise on your website.
Site Admin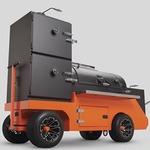 Joined: April 18th, 2014, 3:12 pm
Posts: 2249
I just spray mine down with the hose.
Return to Manuals, Troubleshooting, Best Practices, FAQs, Cooker Registration
---