February 14th, 2018, 5:02 pm
* Abilene *

Joined: October 15th, 2017, 5:35 pm
Posts: 2
I've had my 640 for about 8 months now and it has run flawlessly. Recently I've been getting some fan noise. When the smoker is first fired up it is fine. After about a half an hour I come back to grill and there is a fairly loud howl coming from the fan. The sound is intermediate so I'm guessing there is a secondary fan that kicks on after a while?

I checked the screws that hold the fan to the housing on the left side of the unit. The top 3 were snug, the bottom screw just turns and doesn't tighten so I'm guessing it came from the factory stripped out.

Smoker serial number is 28588, manufacture date is 02/25/17.
February 14th, 2018, 5:12 pm
Site Admin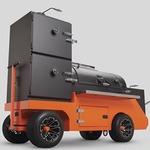 Joined: April 18th, 2014, 3:12 pm
Posts: 2245
April 12th, 2018, 5:17 pm
* Abilene *

Joined: April 12th, 2018, 5:08 pm
Posts: 3
I'd be interested in the resolution as I have the same issue.
Return to Manuals, Troubleshooting, Best Practices, FAQs, Cooker Registration
---