December 14th, 2017, 2:51 am
Hi all

Andrew here from Australia
Pretty frustrated at the moment.
I bought my Yoder YS640 about 3 weeks ago.
It arrived in a timely manner form the Australian importer Grillpro.
I put together the stand and set everything up.
I got it all set up for the initial burn in as instructed.
Turned the unit on, which it did, set the temp to 350F, the igniter and fan started, the hopper was sending pellets into the burn grate and life was good. I closed the hood and the temp was climbing. After about 10mins the units power completely shut off. I tried different plugs. Restarting. On and off etc etc. No good.
Changed the external fuse which was blown and tried again. No action.
Took the whole thing apart, changed the internal and external fuse, tried again. No good.
Disconnected the igniter. Tried again. No change.
Got a new igniter from distributer, changed fuses etc and same again. When switching the main power switch to ON, a blue light flashes for a millisecond, then nothing happens and i find both fuses are blown. I have checked every connection internally. My brother in law who is an electrician has tried everything he knows without any luck.

Has anyone had a similar issue?
How was it sorted?

Frustrated Smoker
Andrew
December 14th, 2017, 10:51 am
* Kingman *

Joined: September 3rd, 2014, 11:04 pm
Posts: 401
Wow, sounds like the controller board died or a wire came loose. Never seen this one before. Could be the igniter shorted during startup/went bad and shorted out the board. Here is the OHM meter test for the igniter.

Possible you used an extension cord? Just checking.

viewtopic.php?f=36&t=78&p=272&hilit=ohm#p272

Good luck!
December 15th, 2017, 9:54 am
Site Admin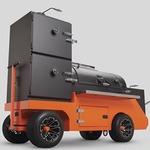 Joined: April 18th, 2014, 3:12 pm
Posts: 2252
We have been in communication with GrillPro, who should be in contact with you to resolve your issue. If you need further help contact GrillPro our send us an email at customerservice@yodersmokers.com
December 16th, 2017, 4:18 am
thanks yoder herb yes grillpro is sending me a whole new control board. Changing the igniter didnt help so hopefully this will.
Cheers
Return to Manuals, Troubleshooting, Best Practices, FAQs, Cooker Registration
---