April 25th, 2017, 5:09 am
* Abilene *

Joined: April 15th, 2017, 6:32 am
Posts: 1
Hello,

I have an outdoor storage shelf, and over the course of the winter, the door was opened and let rain& snow inside. Enough to get my shelf rusted. What is the best way to clean and restore it? Thanks for the help!
April 25th, 2017, 11:37 am
Site Admin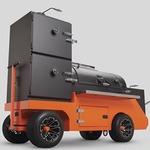 Joined: April 18th, 2014, 3:12 pm
Posts: 2138
Try coca cola and some rubbing to remove the rust. As soon as the rust is gone, you will need to rinse away the soda and cover the grate in a high temp vegetable oil, like canola, and put it in a 350 degree cooker for a minimum of an hour to season the grate.
Return to Manuals, Troubleshooting, Best Practices, FAQs, Cooker Registration
---