February 24th, 2017, 6:53 pm
I bought a YS640 pellet smoker in May 2015. I noticed over the last several cooks, the auger makes a loud noise when it first kicks on. It sounds like something is vibrating and only lasts maybe 5-10 seconds. It will periodically make this noise through out the cook. Does anyone know what would cause this noise?
February 24th, 2017, 8:56 pm
Site Admin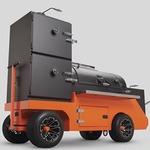 Joined: April 18th, 2014, 3:12 pm
Posts: 2102
February 25th, 2017, 9:51 am
Thanks for the response, there is Velcro on the fan housing. The auger motor does have some play in it (can be slightly lifted up and down). Is this normal?
February 25th, 2017, 10:17 am
I added a new piece of Velcro and the noise stopped. Thanks for the help!
February 25th, 2017, 6:04 pm
* Kingman *

Joined: September 3rd, 2014, 11:04 pm
Posts: 382
Man that Velcro does everything! Now I need to add it to the passenger compartment of my car,
Return to Manuals, Troubleshooting, Best Practices, FAQs, Cooker Registration
---