February 19th, 2017, 12:23 pm
* Abilene *

Joined: August 15th, 2014, 11:40 am
Posts: 2
My YS640 will be three years old in July. The thermocouple has a lot of gunky grease and/or creosote buildup on it which makes me wonder if it is reading the temperatures correctly. Should the thermocouple be cleaned periodically? If so, what is the recommended process?

Thanks!
February 20th, 2017, 7:27 am
* Kingman *

Joined: September 3rd, 2014, 11:04 pm
Posts: 379
I do. I just take a stainless scrub pad and wipe it off when I do a major cleaning/scraping. You don't want to get it wet. If water seeps in it can ruin the bits inside,
February 20th, 2017, 8:42 am
Site Admin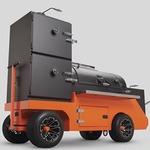 Joined: April 18th, 2014, 3:12 pm
Posts: 2094
IF it is really dirty, I squirt simple Green on it and let it sit a bit, then use a green scratch pad to gently clean it.
Return to Manuals, Troubleshooting, Best Practices, FAQs, Cooker Registration
---