September 28th, 2018, 1:50 pm
When I went to clean the inside of my 640 the other day around the firebox I noticed that there was a lot of sticky stuff around the seams. I was thinking maybe just the caulking but this was not only around the firebox I started to see it around other areas on the bottom of the unit.

Is there a caulking that would wear out and need to be replaced after only a year? I have also started to see it on the rails that the grates sit on.

Could it just be the juices of the meat turning to sticky stuff, but if so wouldn't it be all over the bottom of the unit and not just along the edges?
September 28th, 2018, 8:25 pm
Site Admin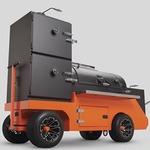 Joined: April 18th, 2014, 3:12 pm
Posts: 2241
Do you use a smoke tube or other smoke generator in the cooker?
December 22nd, 2018, 6:19 pm
Sorry I must have missed this message.
No, just pellets from the hopper. I use the bbq delight pellets only.
Return to Manuals, Troubleshooting, Best Practices, FAQs, Cooker Registration
---