February 2nd, 2020, 7:14 pm
* Abilene *

Joined: July 30th, 2015, 9:33 pm
Posts: 3
So I bought my self a new tube of Surebond SB-188 to reseal the firebox after some damage to the fire box seal below the auger. I was feeling industrious so I started removing the original sealant and ran into a couple problems I was hoping to get some help on.

1) How much of the original bead should I remove? I've removed all the damaged sealant, but should I redo the entire length of the seal even if it's ok? Can I run the new sealant up and over the older but still intact sealant?
2) I've been trying to remove the sealant on the rear side of the firebox and it is incredibly hard to get to. I think the existing sealant is ok but I'd like to seal over the old stuff I cant remove. Is that OK?
February 3rd, 2020, 10:40 am
Site Admin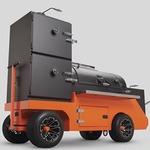 Joined: April 18th, 2014, 3:12 pm
Posts: 2408
Return to Manuals, Troubleshooting, Best Practices, FAQs, Cooker Registration
---