October 24th, 2019, 3:38 pm
* Abilene *

Joined: April 23rd, 2019, 8:09 am
Posts: 1
Finally got around to taking side off and getting at the auger motor per the instructions found here. Hex Bolts were so tight I cant budge them. Also cleaned thoroughly to make sure no obstructions. Still Squealing when feeding pellets...
November 22nd, 2019, 8:21 am
* Abilene *

Joined: May 27th, 2018, 8:02 am
Posts: 1
I'm curious about this as well. Mine's been known to do this on a regular basis. Herb? Any ideas?
November 22nd, 2019, 2:47 pm
Site Admin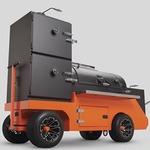 Joined: April 18th, 2014, 3:12 pm
Posts: 2408
Return to Manuals, Troubleshooting, Best Practices, FAQs, Cooker Registration
---