October 1st, 2019, 8:19 pm
* Abilene *

Joined: March 11th, 2019, 1:44 pm
Posts: 1
So I have seen many other posts about this, but let me give you a run down.....

I tried firing up my YS640. There was a little smoke happening, but it wouldn't light, and the pellets just filled up the basket. I also noticed that it seemed the fans weren't running. I kinda figured that the lack of air flow may be the culprit. So I bought a new outer and inner fan, and while I was at it, decided to upgrade to the ceramic igniter.

I just spent a good bit of time installing both new fans, and the igniter. Changed out the fuse, everything looked good. Fired it up, and the fans worked (more on that at the end), but nothing happening from the igniter. I shut the machine off, unplugged, let it sit for ten minutes, plugged back in, fired it up, still nothing. I've took the fuse back out, made sure it was in right, just about everything I can do. ZERO heat from the igniter. Any help you can provide would be appreciated.

As for the fans, the outer fan seems to be making a clunking noise like its hitting something. I made sure nothing was stuck in there, and the sound goes away by simply placing my hand on the vent. Anyone ever have to deal with this?

Thanks!
October 1st, 2019, 9:46 pm
Site Admin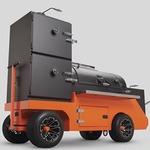 Joined: April 18th, 2014, 3:12 pm
Posts: 2403
Return to Manuals, Troubleshooting, Best Practices, FAQs, Cooker Registration
---