February 14th, 2016, 9:10 pm
* Wichita *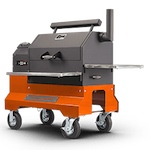 Joined: December 20th, 2015, 4:30 pm
Posts: 170
Location: Wichita, KS
Second run of baby backs on my YS640. This turnout was AMAZING. First was good. Second was way better.

I roughly followed the recipe spelled out by Brian Misko of House of Q. Removed membrane, lightly covered in yellow mustard, rubbed well in Oakridges Dominator Rib Rub. Set my cooker at 250* with 100% apple BBQ Delight pellets. Put the ribs on top shelf. Cooked two hours. Mixed up (per recipe) a mixture of apple juice, dark rum and maple syrup. Basted these bad boys every hour after the initial 2. Cooked for a total of 5.5 hours (internal temp was 189-193*). Pulled, sauced, stuck back on for 20 mins. Let rest for 15 mins. Had party in my mouth!!!!!

I am so ignorant at smoking food and this dang Yoder makes it insanely easy!


Last edited by
Jfrederick
on February 14th, 2016, 9:44 pm, edited 1 time in total.
Wichita, KS!
New to pellet grilling/smoking
YS-640 ON ORANGE COMP CART
February 14th, 2016, 9:29 pm
* Abilene *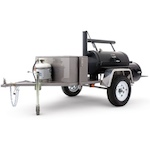 Joined: September 21st, 2015, 9:22 pm
Posts: 4
February 14th, 2016, 11:38 pm
* Abilene *

Joined: August 15th, 2014, 7:24 pm
Posts: 6
Location: Langley, BC
There ya go! High five brother!

BBQ Brian
Head Pitmaster and Owner
House of Q
HouseofQ.com
Return to Look at what I cooked
---