January 26th, 2016, 2:23 pm
* Abilene *

Joined: August 15th, 2014, 9:55 pm
Posts: 42
Location: Pleasanton, Ca
Did a few shoulders this Sunday. Injected them, rubbed and ran at 275 for 5 hours. Then wrapped them and cooked till 198 internal. Made some extra for apps on Super Bowl Sunday. Came out great and was about an 8 hour cook.
January 26th, 2016, 7:37 pm
* Abilene *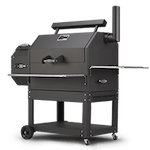 Joined: December 5th, 2015, 4:48 pm
Posts: 25
Looks great. Did 2 shoulders myself this weekend.
Return to Look at what I cooked
---