November 16th, 2015, 9:26 am
* Cheyenne *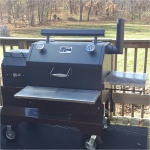 Joined: October 12th, 2015, 4:34 pm
Posts: 78
My third cook on the new YS640. Cooked 4 slabs of ribs. Second cook were steaks that turned out awesome! It appears it is going to take some time to learn to cook poultry.




Technique I followed:


1. Placed all four slabs on top rack for a 2 hour cook at 275 degrees. Used Amazen Tube Smoker for the first hour
2. Wrapped all four slabs up in double foil for an hour and a half at 275 degrees
3. Took ribs off cooked on lower rack for 30 minutes, basted with sauce.
To me they came out fine but I had the following observations so would like some suggestions. I pushed the damper in 5"-6", however the slab on the right near the stack was cooked far more than the one on the left. Being my first pellet grill and coming from a Weber charcoal grill I had to fight the tendency to open and move the meat around. ONly time I opened pit was to remove tube smoker. Top picture are ribs from the right. What's going on here?
If I wanted a more cooked drier rib; do extend the first 2 hours or extend the cook on the end. The online recipe on atbbq didn't even call for placing the ribs back on. The total 4 hour cook at 275 degrees the meat was done. Do I extend time or shift the time in foil?
Return to Look at what I cooked
---