March 14th, 2015, 9:35 pm
* Abilene *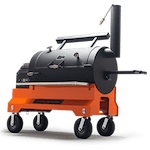 Joined: January 24th, 2015, 2:27 pm
Posts: 27
Finally made it to Sams Club and found/bought a roll of white butcher paper at 18"x1000ft for $15. It should last quite a while.
Hi folks, sorry I haven't been around this thread but I see Yoder_Herb and Yoder_Kirby have been answering the questions! Hope a couple of you managed to find the butcher paper at SAMs. Relatives in other states report that all of their SAMs also carry the same white butcher paper. As Herb mentioned, it's always with the restaurant supplies.

Smoked another brisket just today in fact and the paper still continues to be the only way I go. I've now let my initial cook go for about 5.5 hours to form a better bark - internal temp is about 170F or so but that might vary just a tad. Then I wrap in the paper as usual and pull it when the internal hits that 205F mark. I've done a couple over the winter where I waited until about 210F and they were dried out.

One thing that I have started doing that seem to also help a bit is that when I pull the wrapped brisket for it's hour or so rest, I will wrap it in foil! But, again, only for the rest period. This really helps keep that heat in and seems to assist in the continued tenderizing of the meat.

I'm only able to get flats, and the size is usually around 7lbs with a great fat cap that I trim down to 1/4" thick. At this point it's important to mention that I really struggled with getting a good bark going on my brisket - mostly because I'm not doing a full packer which would require a much longer cook and thus more opportunity for bark! Instead, I've been doing this method:

Rub brisket with olive oil and then do the generous amount of the Texas rub - salt and pepper. Or whatever spice combo you want, lol.
Pat the salt and pepper down a bit, THEN squirt on a healthy amount of mustard. Rub that mustard in gently. Then add a tad more rub. With flats, that olive oil certainly seems to keep some of the thinner parts from getting dry and the mustard with black pepper just serves to really help get that bark going.

Finally, there's a world of difference between smoking a full packer and smoking a flat. I truly wish there were more vids and such and just cooking flats (which many of us are forced to due because packers are almost non-existent. I've had pretty good success with flats, but even then mine could always stand to be more tender!
* Abilene *

Joined: October 6th, 2014, 2:52 pm
Posts: 17
Location: Riverton, Utah
wondering which side of the flat is up?
* Kingman *

Joined: September 3rd, 2014, 11:04 pm
Posts: 407
Usually fat cap is on top.
Yes, if you have flat in which it's not very obvious that there's a serious layer of fat on one side vs the other - don't buy that flat! It means that someone has unfortunately trimmed all or most of the beautiful fat cap off the top of the flat.

If you've got a good cut of flat, your should in fact have to probably trim or skim cut some of the fat off the top. Ideally you'll want no thicker than a 1/4" of fat thickness - even a tad less.
One more tip, and one that's rarely mentioned in blogs or videos but that I've found to be vital: Whether you're buying a flat or packer, you should be able to take that cut of meat and bend it longways completely forward and backward so that the ends touch with little or no resistance. And I do mean little or no resistance. That meat should be incredibly pliable and rubbery. Sams's Club brisket - at least in my area - has gotten very stiff and unbendable. Even in the vacuum packing it should easily bend. There's a million factors to why it's so inflexible, but partial freezing/thawing or just poor quality meat are good reasons.

Again, this seems like a minor point but I did a side by side cook last week with Sam's brisket (not flexible) and a local butcher (very fresh and flexible cut). The end difference was astounding. The Sam's never passed the pull test, and dried out immediately after cutting. There was also way more jus left over. The local meat pulled apart easily, and had hardly any jus left over - it stayed in the meat. BOOM. haha. If you've got a 1/2 cup or more of jus with a flat, something has gone horribly wrong.

Return to Look at what I cooked
---