July 18th, 2017, 12:45 pm
* Abilene *

Joined: July 6th, 2017, 10:49 pm
Posts: 6
Location: Valdese, NC
This is super quick and easy to put together and it provides a lot of options in the end... you can also cook this on up to an internal temperature of 200 degrees if you wish.... Good stuff!
July 18th, 2017, 12:58 pm
Site Admin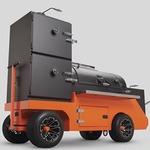 Joined: April 18th, 2014, 3:12 pm
Posts: 2408
Looks great! Thanks John.
Return to Look at what I cooked
---