March 9th, 2017, 11:57 am
* Abilene *

Joined: February 20th, 2017, 12:10 pm
Posts: 8
I smoked my first brisket on the YS640 last weekend. It was a 14lb Prime packer. I seasoned it with a rub I use for prime rib with some paprika, chili powder and a little bit of sugar added. I smoked it at 225 degrees and it took about 14 1/2 hours, best brisket I've made yet. I did not wrap this during the cook at all. I made burnt ends out of the point (although it was a little difficult because it was so tender) and also had homemade mac & cheese. I love my Yoder so far.
March 10th, 2017, 8:46 am
* Wichita *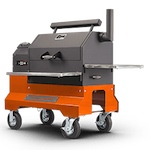 Joined: December 20th, 2015, 4:30 pm
Posts: 171
Location: Wichita, KS
Nice job! Looks very good!
Wichita, KS!
New to pellet grilling/smoking
YS-640 ON ORANGE COMP CART
Return to Look at what I cooked
---