February 10th, 2017, 3:33 pm
Here are some pictures of a few items I've smoked so far. We use the YS640 about 3 - 4 times a week. What a great appliance!

Today, I'm smoking a Tri Tip. I'll smoke it @ 200 degrees until it hits 120 degrees IT. Then pull it, foil wrap and let it rest in an unheated oven for 1/2 hour. I use sea salt, fresh ground pepper, chili powder, smoked paprika, cayenne pepper, garlic powder and onion powder for a rub.

Just sharing my adventures. Good stuff coming off the YS640!

Cheers!
Attachments
February 10th, 2017, 4:11 pm
Site Admin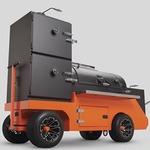 Joined: April 18th, 2014, 3:12 pm
Posts: 2408
Return to Look at what I cooked
---